I sucked at subbing/translating but here goes: I did it - a video from way 2003 back when Ya-Ya-yah was still alive. it's called Johnny's Dance and Music Battle with date 2003.10.26

'MAI' THANKS:
raw thanks to
massu_alliance
some lyrics reference thanks to
goro_chan
Teaser:

What's with Massu?


Download Here:

HARDSUBS
MEGAUPLOAD
MEDIAFIRE:
either in THIS FOLDER,
or .001 | .002 | .003


SOFTSUBS:
MEDIAFIRE

Now for the misleading snapshots:

* What is Hikaru doing being adorably cute there?



* Why is Shige Shocked?



* Why did Inoo mention Massu? o_0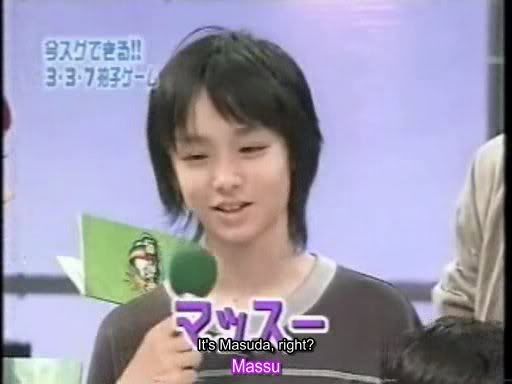 and lastly...




WHUT.IS.HAPPENING?! *screams*

REMINDERS:
*

No matter how amazing Notti really is, he isn't talking about my sub. As I said, I suck at translating/subbing so if you think that a lot of errors are made, feel free to correct me by commenting or whatever. THERE ARE ACTUALLY ERRORS orz [Body Braid -> Blade] and [caught up -> catch up] I'm so sorry. I'm sure there are other typographical errors or accidental sticky caps incident but they are minor mistakes so I hope you could forgive them :)

* If you think that you can understand it better if I didn't sub it then grab it HERE. look for the show called Shoon VS Massu. Make sure to thank them if you grabbed there.

* I'm not expecting any credit but please do the ones that I did. Plus never own it...People really have tendencies.

* I do expect comments from people who grabs it though: good or bad (I'm really open to those kind of things)

* Lastly, ENJOY!!



Happy Birthday Tego-chan!